Welcome to LRT Consulting: Your Consultant of Choice in Organization Change and Learning!
Current Events, Sharing and Product Promotions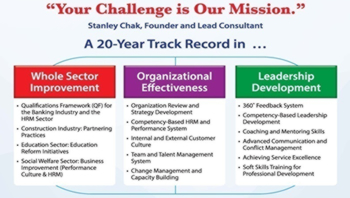 Learning Resources & Technologies Ltd. is also known as LRT Consulting. "LRT" stands for Lead, Rethink and Trust. Together these three organizational capabilities enable our clients achieve IMPACT on individual, team and organization performance in the 21st century business environment.
LRT Consulting was founded in 1996 in Hong Kong and 2006 in Shanghai. Riding on what we have achieved together with our clients in the past 20+ years, we will partner with you to diagnose, design, implement, evaluate and improve TALENT & ORGANIZATION DEVELOPMENT solutions unique to your business needs and organization culture. With 120% commitment to achieve client success, we strive to be your CONSULTANT OF CHOICE!
Our Professional Services to Clients
Our Consulting Partners
In order to provide innovative and quality services to you, our core team may leverage the strengths of our consulting partners in the design and implementation of unique performance improvement solutions. The consulting partners who have been collaborating with us for years include:
READ MORE
Our Privacy Policy
Learning Resources & Technologies Ltd. (referred to as "LRT Consulting", "we", "us" and "our") takes client confidentiality seriously. We respect your privacy and promise to control the collection, holding, processing or use of your personal data and corporate information. This is the reason why we would keep you informed of the actions we are taking to safeguard your information.
READ MORE