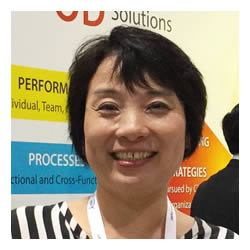 BBA (First Honour), Chinese University of Hong Kong
HKICPA, FCCA
MHS Accredited Trainer and Certified Practitioner on EQ-i 2.0 / EQ360
MHS Accredited Trainer and Certified Practitioner on Hardiness Resilience GaugeTM
Coaching Clinic® Certificate
Angela was a former Asia Pacific regional head of Finance and Operations.  With over 25 years of experience in financial resources management, operations excellence, change management, project management, and lean initiatives implementation in Hong Kong and Asia Pacific, Angela offers her experience of good practices in strategy and business planning, productivity and performance improvement, leadership and talent management.
Throughout her long career with global industry leaders (e.g. Deloitte, Philip Morris, Digital Computer, Compaq Computer, Advanced Medical Optics, Amersports, and The Children's Place), Angela has gained solid experience in mentoring and coaching multi-cultural staffs, internal clients and business leaders.  She is highly respected as a strong, optimistic and empathetic leader who is excelled at challenging people to be their best.  In addition to her in-house leadership and coaching role, Angela contributes to different mentorship programs in grooming future talents.
With strong belief in the value of Emotional Intelligence (EQ) to leadership effectiveness, relationship management, performance and successes, Angela is dedicated to promoting high EQ to different communities in society in the recent years.  She talks regularly to organizations, groups and individuals from all walks of life on applications of positive emotions in parenting, mentoring, relationship building, and conflicts management.
Angela is now the Certified Practitioner and Globally Accredited Trainer on EQ-i 2.0 / EQ360 and Hardiness Resilience GaugeTM.  She conducts certification workshops quarterly, and is devoted to developing her workshop participants from both business and public sectors as the authorities in Emotional Intelligence.