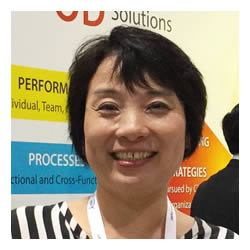 FCCA
MHS Accredited Global Trainer of EQ-i 2.0 / EQ360
Certificate in Coaching Clinic
With over 25 years of experience in finance and operations management in Asia Pacific, Angela has developed a strong belief in the value of Emotional Intelligence to leadership effectiveness and business success. In a fast changing business and social environment, the ability to partner and collaborate with different stakeholders in achieving project goals or resolving team conflicts is paramount.
Throughout her long career with global industry leaders (e.g. Deloitte, Philip Morris, Digital Computer, Compaq Computer, Advanced Medical Optics, Amersports, and The Children's Place), Angela has gained solid experience in mentoring and coaching multi-cultural staffs, internal clients and business leaders. She is highly respected as a strong, optimistic and empathetic leader who is excelled at challenging people to be their best. In addition to her in-house leadership and coaching role, Angela contributes to different mentorship programs in grooming future talents.
As certified practitioner and global accredited trainer of EQ-i 2.0 / EQ360, Angela is passionate in introducing the art and science of Emotional Intelligence to people from all walks of life. Speaking with her life and business experiences, Angela works closely with her workshop participants from both the business and public sectors in becoming the authority in Emotional Intelligence.
Angela is now Director of Learning Resources & Technologies Ltd. (LRT Consulting) which is located in Hong Kong and Shanghai since 1996. LRT Consulting is a talent and organization development consulting firm specializing in talent assessment and development, competency models and qualifications framework, productivity and performance improvement, organizational health audit, team building, etc.