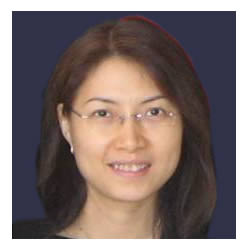 MSc Human Resource Development and Performance Management
Trained Six Sigma Green Belt
Associate Member of HKIVM
Licensed Consultant of Competency Profiles Assessment (HRD Press)
Annie is experienced in managing consultancy projects, organizing customer or employee experience surveys and conducting training workshops focusing on customer experience, service excellence, team building, leadership development, executive development and personal effectiveness for clients in public sector and multinational companies in China and Hong Kong.
In her early days after joining LRT Consulting, she devoted much of her time delivering IT related courses for assisting clients in work efficiency improvement. During recent years, Annie designs and conducts training programs in relation to communication, presentation, train-the-trainer, coaching, customer contact skills, service excellence, time management, problem solving and creative thinking, project management, team building, leadership development program, executive development program, etc. In addition, she is also in charge of a research team and specialized in survey administration, including organizational capability survey and customer satisfaction survey (such as effective communication and mystery shoppers).
The corporate clients Annie has served include Air France, LSG Sky Chef, CLP Power, Levi's, Ronald Lu & Partners, Yew Wah Education Management, Wall Street English, Whirlpool, Pfizer (Nutrition and Trade respectively), Wyeth, Bank of China (Hong Kong), Bank of Communications – Hong Kong Branch, China Construction Bank, Shanghai Commercial Bank, Shell, AEGON-CNOOC Life Insurance, The Great Eagle Company and government departments such as Customs and Excise Department, Education Bureau, Hongkong Post, Television and Entertainment Licensing Authority, Housing Authority. Besides, she has also developed and delivered training programs for NGOs such as Baptist Oi Kwan Social Service, Caritas Hong Kong, Evangelical Lutheran Church Social Service – Social Service Head Office, Hong Kong Red Cross, The Hong Kong Society for the Blind, The Hong Kong Council of Social Service and others.
Annie earned her undergraduate degree in Organizational Communication from Ohio University of United States. Then she attained her Postgraduate Certificate in Applied Professional Studies in Lifelong Learning from University of Surrey of United Kingdom. With her leading performance in modern management, technology, and systems, Annie has been awarded to the grade of fellow both of The Institute of Management Specialists and The Academy of Multi-Skills, United Kingdom. She was also listed at International Who's Who Professional Management Directory (Seventh Edition). She has professionally trained as Six Sigma Green Belt. She was awarded Master of Science in Human Resource Development and Performance Management with Merit from University of Leicester, United Kingdom.