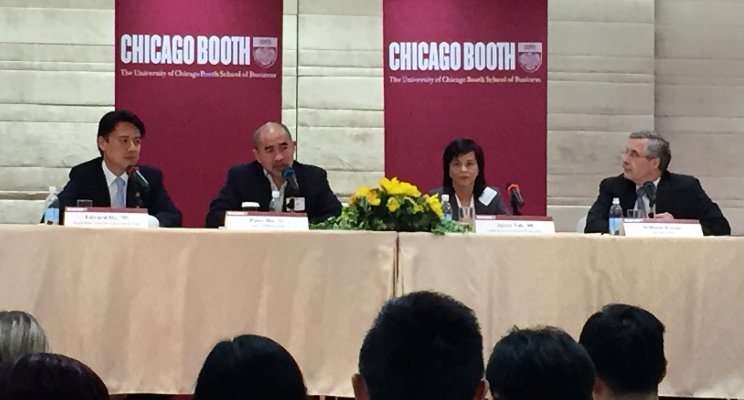 After attending yesterday's wonderful forum and networking event organized by the Social Enterprise Initiative at Chicago Booth, I would like to share with you some key learning insights as below:
The Panelists and Moderator
Edward Ho, World Wide Fund for Nature Hong Kong
Peter Ho, YMCA of Hong Kong
Agnes Tai, Great Glory Investment Corporation
Moderator: William Kooser, Chicago Booth
Key Challenges Facing NGO Boards
The panelists shared a number of key challenges and issues facing NGO Boards in Hong Kong such as breakdown of communication, low time commitment or availability of individual board members, weak buy-in and alignment towards proposed organizational changes, diversity issues related to gender and age, NGOs at different stages of organizational "life cycle" may have very different needs, etc.
Common Pitfalls or Improvement Areas
The panelists further suggested some pitfalls or improvement areas that NGO Boards may need to stay alert of: complacency of the Board, losing focus on the vision and mission of the organization, individual members bringing in their own personal agenda, ethical issues and conflict of interests, leadership of the chair-person, etc.
Top Three Audience Questions
Through an online Q&A platform, the audience raised a variety of interesting questions ranging from how to become a board member to governance issues. Many of the audience questions were integrated into the panel discussion. Based on the votes assigned to different questions, I have observed that the top three questions were:
I am curious about board assessment. What do you do to properly evaluate performance of board members? What are the criteria? How often it's done?
It is suggested that a Board needs to be a Learning Board. Please share your views and experience along that line.
How do you get rid of the Board Member who is seriously underperforming?
One Last Thing
To conclude the forum, the Moderator invited each panelist to share 'one last thing' for anyone who is interested in making impact on NGO board effectiveness:
Generate momentum for change e.g. breaking down the silos and building 'one organization' unity among different departments and services.
Identify and engage the right resources effectively, especially in the last minute.
Pay special care to governance issues and validate your governance.
Hope this helps. Your comments and suggestions on this topic are most welcome.
Remark: The learning recap expressed here may not fully or accurately reflect the views of the organizer, moderator and panelists.
(This article was also posted on LinkedIn by Stanley CHAK on April 26, 2017)